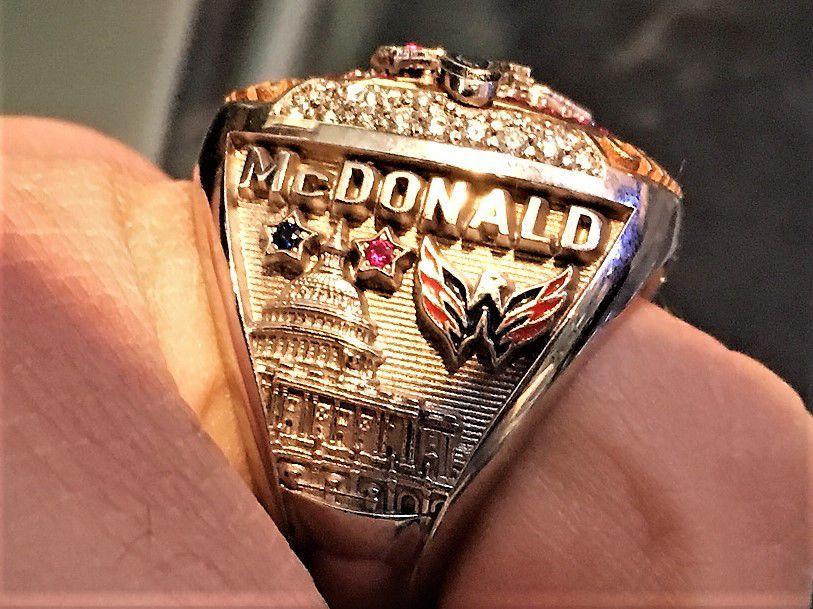 The United States Army Chorus' Sgt. Maj. Bob McDonald knows what it is like to wear $12,000 on his ring finger. It's not a bad feeling. In fact, he's skating — not walking — on cloud nine.
McDonald, a national anthem singing regular at Washington Capitals hockey games and a self-confessed mega-Caps fan, was awarded a Stanley Cup championship ring earlier this month. McDonald's national anthem partner, retired Master Sgt. Caleb Green, also was bestowed with some hockey championship bling.
In June, the Capitals defeated the Vegas Golden Knights for the Stanley Cup championship, and the National Hockey League organization decided to remember Green and McDonald.
"I did give (Ted Leonsis, Washington Capitals owner,) a big hug because I didn't think I deserved one," Green said. "Truthfully, when I did get informed that (we're) are on the list for this, my mouth hit the floor. I was truly floored."
McDonald said he was informed about a month before the NHL's regular season was to begin that a ring was in his future.
"I got a text maybe a month before the season from the Capitals saying we need your ring size," he said. "When we won the Stanley Cup, I never knew I was going to get a ring. I didn't expect anything."
Green and McDonald received their rings before the Caps' home opener, where coincidentally, the pair sang the national anthem. Both humbly mugged for the camera during the pregame with their rings in tow. The crowd's reaction was one of the loudest leading up to the puck drop.
"The coolest thing is the fans coming up to us and saying we're glad you got a ring," said McDonald who posed for many pictures opening night. "The organization took care of us."
McDonald and Green are long-time national anthem singers during Washington Capitals pregame festivities. McDonald has been singing in D.C. and Landover, Maryland, rinks for over 20 years. The NHL champs view the pair as an integral part of the Capitals family.
"Bob and Caleb are supreme vocalists and valued members of our organization," a team spokesman told the Pentagram. "They are an important element to our game experience, and as such, very deserving of championship rings. We are fortunate to have them representing the Capitals and appreciate their talents."