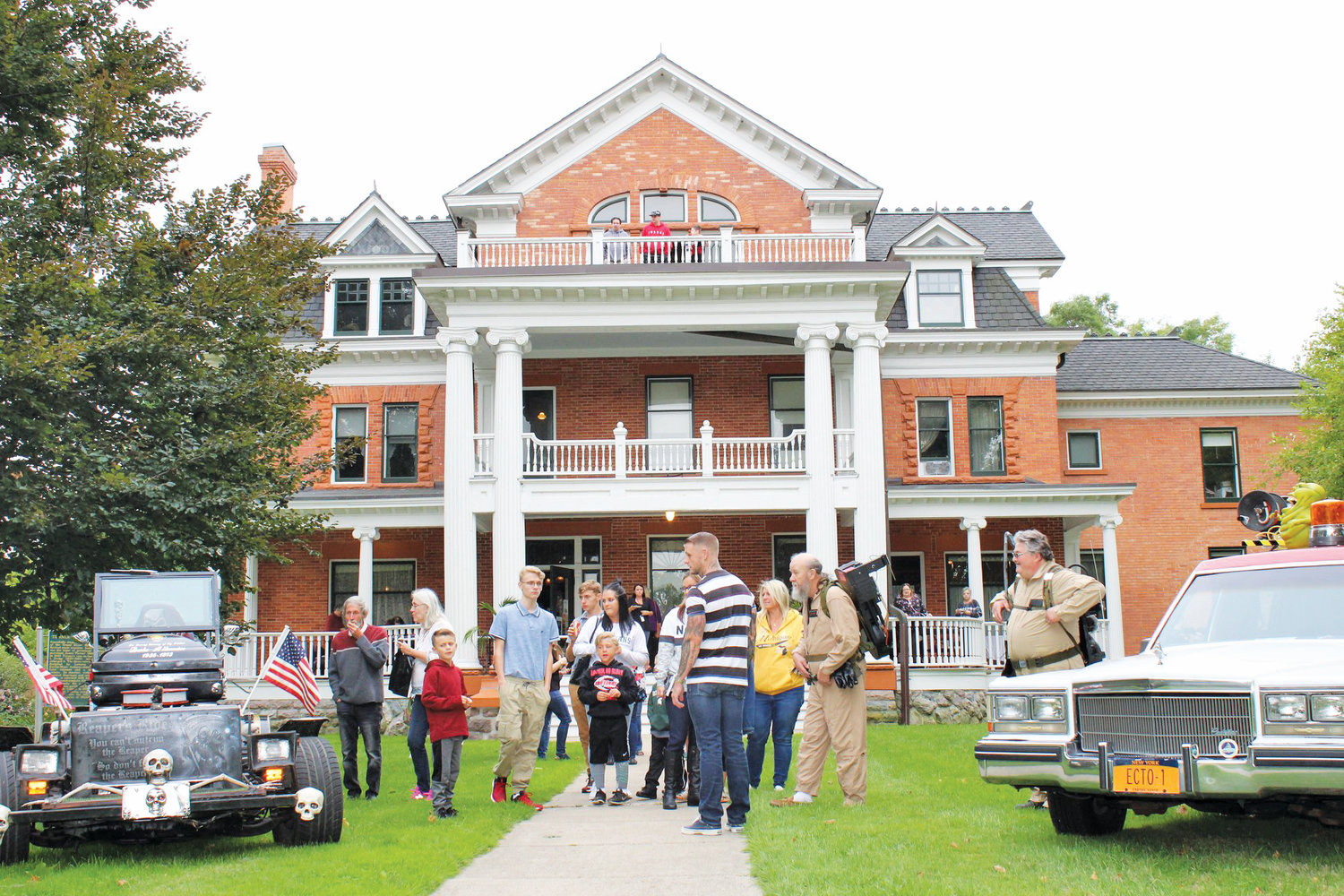 Audrey Matusz
Paranormal storyteller Jenn Carpenter doesn't just pass through Lansing, she studies and tours its darkest elements from haunted mansions to the steps of the Capitol building. However, she doesn't consider herself a ghost hunter. She said in order to carve out a piece in the "oversaturated" paranormal market she needed to find something exceptionally peculiar.
Carpenter's first run of her horror-themed festival, which is Sept. 7 at the Turner-Dodge House, will include vendors from across the state. The free outdoor marketplace will include true crime books, creepy plush dolls, food trucks as well as a spooky photo booth. For $5, guests can enter the mansion for musical performances and presentations. For example, a screening of a documentary called "Lansing's Lost Places," produced by Ruin Road, a production company that explores abandoned and haunted places in the United States. Additionally, Carpenter will host a live show for her folklore podcast, "So Dead."
"I will tell a real story about someone who lived in the house," she said. "His name is Franklin Dodge and he was the grandson of Franklin and Abigail Dodge. He has a pretty seedy past."
While she tells fact-based stories, Carpenter is not a historian. The storyteller said occasionally she finds herself "in awkward situations" where she can't help injecting ghost stories into everyday conversation.
"Someone will say 'I went to the Capitol,' and I'll say, 'Oh, did you know there is a little ghost boy there?'"
Haunted Lansing
Since 2016, Carpenter, 39, and her husband, Dax, have led ghost tours across Mid-Michigan to reveal the hidden stories of landmarks in the area. Through their "Demented Mitten Tours," Carpenter amassed a hoard of information and turned it into a true crime book, then a folklore podcast and now a festival.
Carpenter credits her father for brewing her fascination with horror culture at a young age. She recalled her favorite pasttime with her father was driving through South Lansing listening to his stories about the history of different storefronts. Her favorite story came from her father's childhood about a haunted waterbed store that used to be a grocery store. One day, the grocery store owner, who lived in a flat directly above, caught his wife with another man, killed him and quietly returned back to work.
"Now that I do that kind of research, I was able to look up that actual story and find the facts on what actually happened," said the paranormal author. "In telling that story, I've heard more ghost stories about that building."
The state of horror
The story of the vengeful grocery store owner is part of a collection of local ghost stories she wrote for her first book, "Haunted Lansing." She said Michigan's horror community is small with a "down-to-earth approach." This value seems to be embraced by the horror community as a whole, according to horror blogger Black, who runs halloweenlove.com.
"I think a lot of that has to do with the fact that we push ourselves to be intrigued, to be frightened, to know ourselves," Black said. "From that can come understanding and empathy for the human condition."
In a blog post in 2016 titled "The Depressing State of the Horror Community," Black explained the economic battles of running a horror website and mourns the disappearance of independent horror media outlets. However, in Michigan, the genre seems to be alive and well, with several entrepreneurs devoted to the genre showing out for the event.
When Carpenter announced in June the Portal Paranormal Society was leading an onsite ghost investigation, tickets ($35) sold out in a flash. Founded in Brighton, the company hosts ticketed paranormal explorations at historical sites in the Midwest. According to its Facebook page, the group is dedicated to "debunking myths" about ghost hunting.
On the charity front of the festival, Saved by Zade will have a kitten petting tent where people can decompress and potentially adopt a rescued feline. There will also be a dunk tank where guests can make a donation to raise money for the Salus Center, a local LGBTQ resource center.
For gothic fashion, Lansing's Thrift Witch consignment store and Kreatures of the Night will have a spread of horrifying bling, bags and more. Kreatures is based in Swartz Creek and owned by Rick and Lisa Lewis. Ten years ago, the couple started offering affordable, special effects makeup and picked up gigs through various zombie walks and the Rotten Manor in Holly, Michigan. Kreatures will not offer face painting at the festival, but will have an array of customized goblets, spooky jewelry and other alternative trends.
In addition to selling macabre fashion, Lisa Lewis became an ordained minister to keep up with the demand for horror-themed weddings. Like Carpenter, Lewis believes the horror community is thriving in Michigan and continues to expand on ways to reach out to its alternative members.
"Folks are big into the horror genre and there was a need for it to be available all year round," said Lewis.
Festival of Oddities
Saturday, Sept.7, 11 a.m. to 7 p.m.
Free, $5 VIP
Turner-Dodge House
100 E. North St. Lansing
Facebook.com/festivalofoddities
Full schedule
VIP ($5 at the door)
11:15-11:45 a.m. — Presentation on Stimson Hospital by Pam and Chris Sturgill
Noon-1:00 p.m. — So Dead Podcast live show
1:15-2:00 p.m. — True Crime author talk with Rod Sadler
2:15-2:45 p.m. — "Secret" musical performance
3-4:15 p.m. — "Lansing's Lost Places" screening presented by Ruin Road
4:30-5:30 p.m. — Paranormal author talk with John Robinson
5:45-6:45 p.m. — Presentation by Portal Paranormal Society
8-10 p.m. — Paranormal Investigation with Portal Paranormal Society (sold out)
Outdoor performances (free)
1p.m. — Vladmir VanNilsson
3 p.m. — Death Duo
5:30 p.m. — Scary Women