Brenda Giere from Schmidt's Gems and Fine Jewels provides tips for all budgets on a gift for Mother's Day plus a jeweler's insight into diamonds.
Powered by OmnyStudio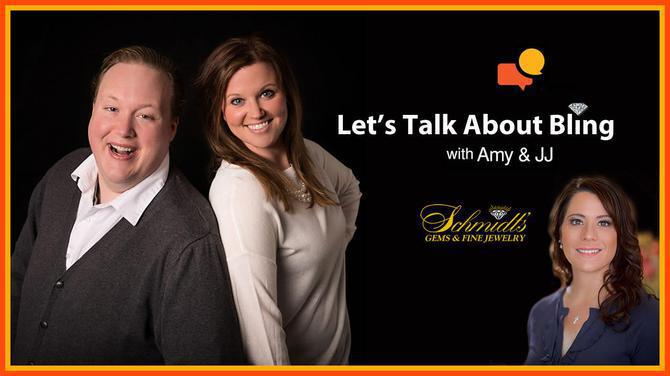 Amy Iler and JJ Gordon get a chance to sit down with Brenda Giere from Schmidt's Gems and Fine Jewelry to talk about getting a great gift for Mother's Day. Some tips about your gift hunting that can help make the process easier.
1. Know your budget. Don't think about how little you have to spend, concentrate on getting the right piece for the right price. All budgets can yield a piece of jewelry that can be cherished for years.
2. Take a peak into the jewelry box of the person you are purchasing for. Is there a lot of silver? A particular color or style? Walking into a store with a base can help save you frustration and being overwhelmed. 
3. Know your mom's birthday! Sometimes a birthstone feels right, but if you can't remember if mom was born in March or April…
4. Don't wait until the day before. If you are ordering a custom piece or shopping from the case, leave enough time for engraving/wrapping/sizing. 
Brenda also gives Amy and JJ a crash course in diamonds. Not all diamonds are alike, but it's getting harder and harder to tell when one is created in a lab versus thousands of years in the Earth.
Included in this conversation is a concept that has been gaining popularity lately. Turning the ashes of a loved one into a diamond that you can place into a ring, necklace or bracelet.
"Let's Talk About Bling" is a monthly segment with special guest Brenda Giere, owner of Schmidts Gems and Fine Jewelry.
Hear "Let's Talk About Bling the second Tuesday of the month – our next segment: Tuesday, May 14th at 1:10pm!
Amy Iler, JJ Gordon and the KFGO listeners get their questions answered about engagement rings, anniversary gifts and more!
3011 25th St South
Fargo, ND 58103
701-237-9211
HOURS
Monday – Thursday: 9:30am – 7:00pm
Friday – Saturday: 9:30am – 5:00pm
Sunday: Closed
Additional content:
Let's Talk About Bling – Jewelry For That Special Holiday
Let's Talk About Bling – Jewelry Cleaning Tips (& more!)
Let's Talk About Bling: Engagement & Anniversary Rings!
Let's Talk About Bling – An Education in Diamonds
Let's Talk About Bling – how to tell if a pearl is real!
(Amy Iler & JJ Gordon are talk-show hosts at 790 AM KFGO in Fargo-Moorhead. "It Takes 2 with Amy & JJ" can be heard weekdays 11am-2pm. Check out the show page on FACEBOOK. Follow Amy on Twitter @AmyKFGO . Follow JJ on Twitter @JJGodon701 .)
Last Updated By: JJ Gordon on Tuesday, April 09, 2019 2:43 p.m.